Shawn Ashmore Unsure Of 'X-Men 3' Status
[Friday, December 10th, 2004]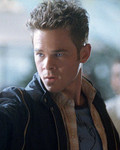 Shawn Ashmore, who plays Bobby 'Iceman' Drake in the X-Men movies, says he's signed up for X-Men 3, but is unsure of the status of the third movie after director Bryan Singer jumped projects to helm Superman. "I'm signed to do the film," Ashmore told Sci-Fi Wire. "But I have no idea what the script is like or who the director will be."

Ashmore says he hopes his role in the third movie will focus on the rivalry between his character and John 'Pyro' Allerdyce. "I think that's a great opportunity for the two elements," Ashmore said. "Also, I like the relationship with Rogue [Anna Paquin]. I think it's not a typical teenage love story, because there is so much against them. They are in a relationship that they can't rush, so the tension there is a lot of fun."

On Bryan's decision to quit the project, Ashmore said, "I think it's difficult, because he really crafted the first two films. It will be difficult to lose someone that had such a huge influence on the movies. [But] I also think it will be interesting to get some new blood in, [someone] with a different vision, as long as they stay true to the original comics. I don't think they should jump too far from Bryan's films, because people will think it's weird if they [make a new film that's] totally different from the first two. Bryan definitely set up a great franchise."
More On 'X-Men 3: The Last Stand'...


E-Mail This Article » Share your comments on 'X-Men 3: The Last Stand'