Famke Janssen Talks 'X-Men 3' Return
[Tuesday, January 11th, 2005]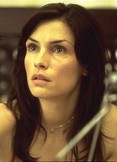 Famke Janssen, who plays Jean Grey in X-Men movies, says she'll miss director Bryan Singer, who has quit X-Men 3 to direct the next Superman movie. "I will be very sad that Bryan is not coming back, because I really feel that he set the tone for the first two movies, and I think he did an incredible job on both of them," Janssen told Sci-Fi Wire. "He really elevated them from what that genre has sometimes been in the past. So he'll be greatly missed by me, but it'll be interesting to see how someone else imagines the characters and the franchise."

Janssen says that she expects X-Men 3 to start shooting in June or July and is hoping to return for the movie, even though she has reportedly not signed up yet. "I'm just excited that, if I come back, I'll be playing a totally different character," Janssen said. "Dark Phoenix will be more dark and complex and twisted than Jean Grey, and that's always fun to play. I don't think she'll be more twisted than Ava Moore [her character on the F/X TV series Nip/Tuck]. That's just not possible. But she'll definitely be more twisted than Jean Grey."

"I'm realistic about knowing that they're going to have to give a bunch of people a good chunk of the movie for them to want to come back," she said. "There's going to be new characters introduced, so it's always a little tricky, [but] if it's anybody's movie ever, it's going to be Wolverine's movie, because that's the number-one X-Men character. But from what I've heard, yes, she's big part of it."
More On 'X-Men 3: The Last Stand'...


E-Mail This Article » Share your comments on 'X-Men 3: The Last Stand'