Famke Janssen Confirms On 'X-Men 3'
[Tuesday, February 8th, 2005]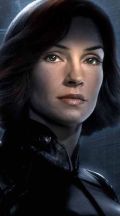 Famke Janssen was reportedly had doubts that she would star in X-Men 3 and may instead star in Superman Returns for Bryan Singer.

Moviehole is reporting that she has now been confirmed as they saw on Australian TV Show "Today", Janssen confirmed that "she has finished working on Nip/tuck and her next project is X3".
More On 'X-Men 3: The Last Stand'...


E-Mail This Article » Share your comments on 'X-Men 3: The Last Stand'