Theroux Gets 'Charlies Angels' Sequel Part
[Monday, July 22nd, 2002]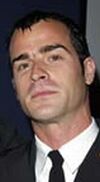 Justin Theroux ("Mulholland Drive") has just closed a deal to star in the sequel to "Charlie's Angels" for Columbia Pictures, reports The Hollywood Reporter.

"Charlie's Angels 2," Theroux will star as the ex-boyfriend of Drew Barrymore's character for director McG.

Barrymore stars alongside returning "Angels" Cameron Diaz and Lucy Liu. "Angels 2" reunites him with Barrymore, with whom he just finished working on Miramax Films' dark comedy "The Duplex."
More On 'Charlie's Angels 2: Full Throttle'...


E-Mail This Article » Share your comments on 'Charlie's Angels 2: Full Throttle'