First Look At Jennifer Garner In 'Elektra'
[Thursday, July 1st, 2004]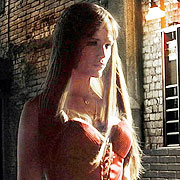 Here is the first look at Jennifer Garner in the spinoff Elektra, which was featured on USA Today.

Directed by Rob Bowman, the movie follows Elektra Natchios, the beautiful but deadly assassin, who was trained by the Hand, a clan of mystical ninjas. When she turns her back on them, they want her dead.

As we can see that she is back in her trademark red leather outfit.

E-Mail This Article » Share your comments on 'Elektra'