Sam Raimi Undecided On 'SpiderMan 3' Villain
[Tuesday, October 12th, 2004]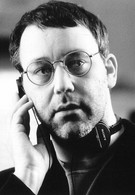 Sam Raimi, director of the first two SpiderMan movies, says that although he's working on making SpiderMan 3 he hasn't decided on a villain yet. "We're starting by determining what Peter Parker's journey is as a human being," Raimi told Sci-Fi Wire. "What deficits does he have? Where was he at the end of the last film, and what is it that he still has to learn? How will this relationship with the woman he loves evolve from this point forward, and what will be their new obstacles? Will it come from outside sources, or will it be something from within that destroys their love? These are the questions we're asking. And when we've got them figured out, when we know what they want and where they're headed and what it is they have to learn, ... we'll try and find the villain that best represents those conflicts."

Raimi says he would be willing to direct another Spider-Man film after the third one. "I'd love to make more," he said. "I never asked [Sony motion picture chairman Amy Pascal], but I have the feeling that she just wants this one to be the final one. She's very emotionally attached to them and wants us to have a sense of completion to it for the audience and feels that that's what the audience wants, that they don't want to see a Spider-Man 4, that they probably would like to see a Spider-Man 3, but not really any more. So she wants to make it complete and final, without setting up new things at the end."

Raimi says that he expects SpiderMan 3 to begin filming in January 2006. "I know it seems like a long way away," he said. "But not for me."

E-Mail This Article » Share your comments on 'Spider-Man 3'