Kirsten Dunst Reveals 'SpiderMan 3' Villains
[Tuesday, September 27th, 2005]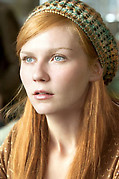 Kirsten Dunst has revealed that Thomas Haden Church will play Sandman and Topher Grace will play Venom in director Sam Raimi's SpiderMan 3.

"We have really great people though as the villains in this film, Thomas Haden Church and Topher Grace -- Venom and Sandman," Kirsten Dunst told Zap2it. "Maybe I wasn't supposed to say that," she said before reversing her claim. "It's the other way around. You're right," she added.

Dunst says she hasn't received the script for the movie yet, which will begin shooting in January. "But I know the general story," she said. "There's a lot that they're trying to fit into this one."

SpiderMan 3 is currently slated for a May 4th, 2007 release.

E-Mail This Article » Share your comments on 'Spider-Man 3'