Theresa Russell Joins 'SpiderMan 3' Cast
[Tuesday, January 24th, 2006]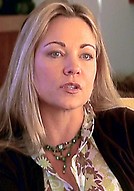 Theresa Russell has joined the cast of Columbia Pictures sequel SpiderMan 3, says the Hollywood Reporter.

Russell is aboard to play Mrs. Marko, the wife of Flint Marko, aka the Sandman (Thomas Haden Church).

Plot details are currently scarce, though it is known that the villainous couple has a daughter. Tobey Maguire, Dunst and James Franco are reprising their roles, and Topher Grace and Thomas Haden Church have been cast as the villains.

The feature will be helmed by Sam Raimi, who co-wrote the story with his brother, Ivan Raimi. Shooting is set to start this month.

E-Mail This Article » Share your comments on 'Spider-Man 3'