Elizabeth Banks Returns For 'SpiderMan 3'
[Thursday, March 16th, 2006]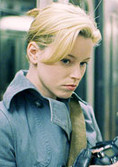 Elizabeth Banks, who will play Betty Brant in SpiderMan 3, says that although she has filmed scenes for her role, she's worried that her character may be cut from the final cut. "I learned my lesson a long time ago that everything can be cut," Banks told Sci-Fi Wire.

Banks says she wants writer/director Sam Raimi to keep her scenes in, because, according to the comic-book history, she is Peter Parker's first girlfriend.

Banks says she knows about her character, a red-head whom Parker meets at the Daily Bugle. Her co-worker, Eddie Brock, becomes supervillain Venom, after getting fired from the newspaper. "You should maybe write Sam Raimi a letter. I'm very aware of [the character's history]. Make him aware," Banks added. "Tell him I'm actually Venom!"

E-Mail This Article » Share your comments on 'Spider-Man 3'