Olivier Martinez To Bribe 'S.W.A.T' Team
[Thursday, September 26th, 2002]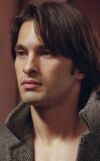 Olivier Martinez

Olivier Martinez ("Unfaithful") will join Samuel L. Jackson, Colin Farrell and Michelle Rodriguez in Columbia Pictures "SWAT," reports Variety.

In the movies, the Los Angeles SWAT team must protect an international criminal (Martinez) as he's transferred to a secure facility. However, the con has offered $100 million to anyone who can arrange his escape.

Written by David Ayer and directed by Clark Johnson, principal photography begins in October.

E-Mail This Article » Share your comments on 'SWAT'