Brand New Terminator 3 Movie Stills
[Friday, January 3rd, 2003]
Some new pictures of Arnold Schwarzenegger as the T-800 Terminator have been added to the Terminator 3 Gallery, courtesy of Warner Bros. Check them out by clicking on the picture below.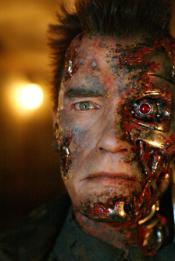 Also new images have also been added to Cradle 2 The Grave, Dreamcatcher, Torque. Be sure to check them all out!
More On 'Terminator 3: Rise of the Machines'...


E-Mail This Article » Share your comments on 'Terminator 3: Rise of the Machines'