Robert Patrick Joins Travolta's 'Ladder 49'
[Thursday, February 20th, 2003]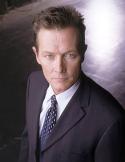 Robert Patrick is set to star with John Travolta and Joaquin Phoenix in the firefighting drama Ladder 49, says Variety.

The project, to be directed by Jay Russell for Disney, sees Phoenix play a firefighter who's trapped in a blaze and looks back on his life. Patrick's character, a fireman with a perpetual chip on his shoulder, tries to save his comrade. Travolta plays a fire chief who acts as a mentor to the Phoenix character.

This is Patrick's second film since wrapping the Fox series 'The X-Files'. He can be seen next in Charlie's Angels: Full Throttle.

E-Mail This Article » Share your comments on 'Ladder 49'