Thomas Ian Nicholas Talks 'American Wedding'
[Thursday, July 17th, 2003]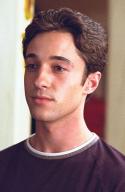 Thomas Ian Nicholas has been speaking with About.com and was asked a few questions on what we can expected in the third American Pie movie - American Wedding.

What can we expect from "American Wedding?" How will it be different?
Less story, more laughs. [That's] not to say that there's not a story in the third one, but because everyone knows the characters from the previous two films, there's more of an opportunity for humor. That will hopefully work out.

What's Kevin's role in the wedding?
He's one of the groomsmen and tries to help Jim get ready for a wedding in two weeks, which is one of the first turning points that they want to have the wedding sooner so that Grandma will live to see it.

Were there any embarrassing moments on the set?
I think some of the DVD footage that we shot, we shot some stuff that's only going to go on the DVD, and there was some stuff that I just couldn't do. It was just a little too much. And some of it may be in the film, which is bad. Other than [that], the fact that we went to Vegas to celebrate finishing the film and we were staying at the Paris hotel and Bally's is connected. I walked out of Bally's because I couldn't find my way to Paris. I got me a cab and said, "Can you take me to the Paris hotel?" He goes, "You're here." That was an embarrassing moment that I've not really lived down.

Check out more by hitting the link above!

E-Mail This Article » Share your comments on 'American Wedding'