Masi Oka To Come Into Casino Movie '21'
[Tuesday, January 2nd, 2007]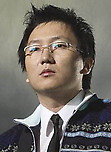 Masi Oka is to star in Columbia Pictures' casino-set thriller 21, according to the Hollywood Reporter.

The breakout star of NBC's rookie hit "Heroes" and a special effects artist-turned-actor, Oka is in talks to play a supporting role in the film inspired by the true story of a group of men who learned the art of card counting and won millions of dollars gambling. The film is based on Ben Mezrich's best-seller "Bringing Down the House: The Inside Story of Six M.I.T. Students Who Took Vegas for Millions."

Jim Sturgess will star in the long-gestating project, which picked up steam last year when director Robert Luketic dropped out of a big-screen adaptation of "Dallas" to helm "21." The blackjack tale is scheduled to begin shooting in February in Boston and Las Vegas.

E-Mail This Article » Share your comments on '21'