Angelina Jolie Confirms 'Sin City 2' Talks
[Tuesday, December 12th, 2006]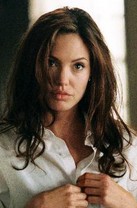 Angelina Jolie has confirmed that she is indeed interested in playing Ava in Robert Rodriguez and Frank Miller's Sin City 2.

"We've talked about it," Jolie told Sci-Fi Wire. "And I've read the comic, and I don't think the film is being made at this moment. So when it's actually going to be made, I'm sure we'll talk about it [again]."

Jolie says she was approached while she was expecting her baby. "So it was this idea that I'd been Clover [in The Good Shepherd] and depressed and quiet [as that character], and then I was feeling very maternal and pregnant, and it was this idea of [then playing] this sexy, violent, loud [woman]," she said. "And I suddenly thought, 'Well, maybe after I'm pregnant that'll be nice to do.' It didn't come together at that time, but we're still talking about it."

She added, "I have no idea when it might go and if I'd have time when it does. But I think it's a very interesting project, and I like the comic, and I love them as directors. So it's a possibility."

E-Mail This Article » Share your comments on 'Sin City 2'