Spike Lee Is To Direct James Brown Bio
[Tuesday, January 2nd, 2007]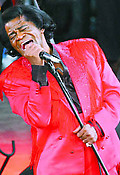 Spike Lee has signed on to direct a feature on the life of James Brown, according to Variety.

"Like everybody, I was surprised and saddened that James Brown died," Grazer said Tuesday. "Having known him well, and after spending lots of time with him and researching his life, it's somehow not surprising that he died on Christmas Day. He was the ultimate showman, all the way to the end."
More On 'Untitled: Spike Lee James Brown Project'...


E-Mail This Article » Share your comments on 'Untitled: Spike Lee James Brown Project'