John C. Reilly In Parody 'Walk Hard'
[Monday, December 11th, 2006]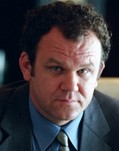 John C. Reilly is to star in the musical biopic parody Walk Hard, according to Production Weekly.

The movie spoofs the recent phenomenon of Oscar-baiting musician biographies. Jake Kasdan will direct from a script he co-wrote with Judd Apatow, goofing on movies like "Beyond the Sea," "Walk the Line," "Ray,' 'The Commitments' and 'Great Balls of Fire."

Reilly plays fictional music legend Dewey Cox, who's an amalgamation of Johnny Cash, Roy Orbison and Waylon Jennings and will sing the tunes his own voice.

Shooting will start mid January in Los Angeles.
More On 'Walk Hard: The Dewey Cox Story'...


E-Mail This Article » Share your comments on 'Walk Hard: The Dewey Cox Story'