Ben Stiller Planning 'Zoolander 2' Return
[Tuesday, December 12th, 2006]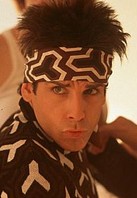 Ben Stiller says he is planning a Zoolander sequel, Zoolander 2.

Stiller confirmed that he is trying to get the original cast back, and is currently working with Owen Wilson.

It's almost more difficult to work together as everybody has gotten successful. Everybody is doing their own thing, and it's sometimes hard to get together," he told USA Today.

E-Mail This Article » Share your comments on 'Zoolander 2'