Britneys Spears Has New Mini Boyfriend
[Sunday, April 7th, 2002]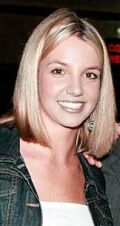 Darth Q told us that today on British channel "Sky One", "Britney Meets Blackwood", comedian Richard Blackwood did a episode length interview with Britney Spears.

They met on the set of "Austin Powers 3", and she revealed that she would play herself as the girlfriend of the notorious Mini Me.

She also told Richard about one of her scenes, she says that as she is doing a concert, Austin Powers comes on stage and fights with her for a spot on set.

Just before she goes on set she recites her which go something like:

"Is it true what they say about you?

He then whispers someting in my ear"

For those of you who want to watch it again then it will be repeating again on "Sky One" at 10:00pm on 10th April.

We should be getting more clearer details soon.
More On 'Austin Powers in Goldmember'...


E-Mail This Article » Share your comments on 'Austin Powers in Goldmember'