Austin Powers Goldmember Villian Pic
[Monday, May 13th, 2002]
Here is the first picture of Mike Myers as Goldmember in his sequel movie "Austin Powers In Goldmember"

Mike went through hours of make-up to become Goldmember, below, who is clearly based on James Bond baddie Goldfinger — master of legendary Oddjob.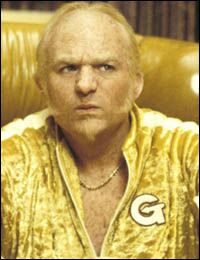 But Myers was almost forced to scrap the character after Bond execs complained the name was too close to the title of their 1964 Sean Connery film.

The movie is set to be release on 26 July 2002.

Source: Sun Newspaper
More On 'Austin Powers in Goldmember'...


E-Mail This Article » Share your comments on 'Austin Powers in Goldmember'