'Bad Boys 2' Co-Star Gabrielle Union Talks
[Tuesday, July 23rd, 2002]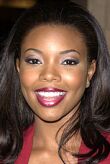 MTV.com talked to Gabrielle Union ('Bring It On') about her part in the sequel 'Bad Boys 2,' she talks about how she is thrilled to thrilled to start shooting 'Bad Boys 2' in early August.

"I've seen [Bad Boys] about 100 times," Union gushed. "I liked it because it was the first time we got to see Will out of the 'Fresh Prince' mode and he was kind of like billy-bad-ass. It kind of established him as like a sex symbol. That was cool. And I think it was the first time we saw Martin as the straight man. And I really enjoy him when he plays a straight man, like in Life and Bad Boys. I loved it."

"I'm like the black Annie Oakley," she said with a laugh, referencing the young 19th century gunslinger immortalized in film and television. "I shoot everything that moves. It's just going to be a lot of fun and a lot of action. You know, typical Michael Bay, Jerry Bruckheimer ... tons of explosions!"

What made the original 'Bad Boys' such a commercial success had as much to do with its explosive action as it did with the good-natured tension between its main characters, much of it egged on by costar Tea Leoni's damsel in distress. Union's character will serve a similar purpose in the sequel.

"I play Syd, who's Martin's sister and Will's love interest," Union explained. "She's an undercover D.E.A. agent working on busting an ecstasy ring. And she's actually been able to kind of work her way pretty far up in the criminal underworld hierarchy. And wacky hijinks ensue! There's kind of a sexual tension between my character and Will's character, Mike. And it provides animosity between him and Martin's character."

'Bad Boys 2' is looking for a August 17th 2003 release. Click here for the rest of the interview.

E-Mail This Article » Share your comments on 'Bad Boys 2'