Djimon Hounsou To Star In 'Beauty Shop'
[Friday, March 19th, 2004]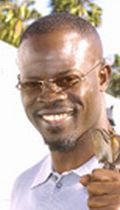 Oscar-nominated actor Djimon Hounsou and Alicia Silverstone are checking into Beauty Shop, according to The Hollywood Reporter.

Queen Latifah is to star in the Barbershop spinoff for director Bille Woodruff (Honey).

Latifah plays Gina, who moves from Chicago to Atlanta so her daughter can attend a prestigious music school. She becomes a stylist and, when her scamming boss takes credit for her work, opens her own shop, where her uptown clients clash with those from downtown.

Shooting is set to start next month.

E-Mail This Article » Share your comments on 'Beauty Shop'