Jessica Alba And Elizabeth Banks In 'Bill'
[Wednesday, June 7th, 2006]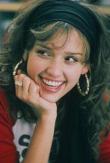 Jessica Alba and Elizabeth Banks are to star opposite Aaron Eckhart in the comedy Bill, according to the Hollywood Reporter.

The story centers on Bill (Eckhart), who, fed up with his job, his wife (Banks) and his life, finds himself the reluctant mentor of an unruly teenager. His life hits an all-time low when he catches his wife having an affair. But with the help of Lucy (Alba), an intriguing saleswoman, he regains his lost sense of self.

Lindsay Lohan, who was attached to play the unruly teen, recently dropped out of the film.

E-Mail This Article » Share your comments on 'Bill'