Lindsay Lohan Joins Kennedy's Assassination
[Thursday, October 27th, 2005]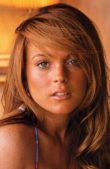 Lindsay Lohan has joined the cast of Bobby, according to the Hollywood Reporter.

Also joining are Shia LaBeouf and Brian Geraghty. The Emilio Estevez' project is based about the assassination of Robert F. Kennedy, which he wrote and is directing.

Anthony Hopkins, Demi Moore, Sharon Stone, Elijah Wood, Nick Cannon and Freddy Rodriguez already are cast in the film, which is set to go into production next week in Los Angeles. Estevez also has a role.

Movie mixes fact and fiction to chronicle the intertwining lives of a grand cast of characters present at Los Angeles' Ambassador Hotel in the hours leading up to Kennedy's assassination.

E-Mail This Article » Share your comments on 'Bobby'