Paddy Considine Joins The 'The Bourne Ultimatum'
[Thursday, October 12th, 2006]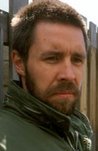 Paddy Considine has joined the cast of The Bourne Ultimatum, according to the Hollywood Reporter.

The third installment of the successful action series starring Matt Damon has Paul Greengrass returning to direct.

The story centers on assassin Jason Bourne (Damon) uncovering mysteries of his past, which puts him in the crosshairs of killers. Considine will play a London journalist who is tracking a former CIA director.
More On 'The Bourne Ultimatum'...


E-Mail This Article » Share your comments on 'The Bourne Ultimatum'