Judd To Lead Catwoman Movie
[Monday, April 2nd, 2001]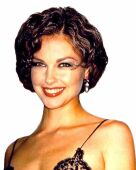 Ashley Judd ('Double Jeopardy') is said to be inline to play Catwoman in a 'Batman' spinoff, for Warner Bros, reported Network of the World.

Catwoman was previously played by Michelle Pfeiffer in the Tim Burton film 'Batman Returns'.

Warner Bros will also be making to other movies based on the Batman series. A prequel which is said to be directed by Darren Aronofsky, and a movie based on the cartoon 'Batman Beyond', which is going to be set in the future.

Judd is currently starring in the romantic comedy 'Someone Like You'. She is currently filming a thriller 'High Crimes' and is in pre-production with the 'Frida Kahlo'.

E-Mail This Article » Share your comments on 'Catwoman'