Farrel Gets Bullseye Role In Daredevil
[Friday, December 7th, 2001]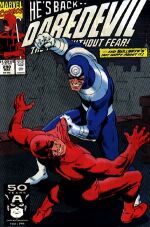 Colin Farrell('Minority Report') is going to co-star with Ben Affleck in the new film 'Daredevil,' based on the Marvel comics, reports Variety.

The Irish actor will play master marksman Bullseye, who is the arch-enemy of Affleck's blind lawyer and martial artist Daredevil. And Daredevil is really Matt Murdock, the son of a boxer. He rescued a man from being hit by a truck many years ago, but he was struck by a strange radioactive isotope. While his eyes no longer function, he gained a secret radar-like ability, which he uses at night in the guise of Daredevil.

The movie is to be director Mark Steven Johnson and his job now is to cast the vital role of Elektra.

E-Mail This Article » Share your comments on 'Daredevil'