Preston & Lafferty Set For 'Death Sentence'
[Monday, October 2nd, 2006]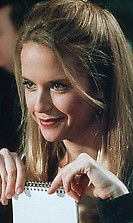 Kelly Preston (Broken Bridges) and Stuart Lafferty (One Tree Hill) are set to join the cast of 20th Century Fox's Death Sentence, says Variety.

The feature stars Kevin Bacon as a father out for revenge after gang members attack his family. Preston will play the wife of Bacon's character and Lafferty will play their son.

Hyde Park Entertainment and Baldwin Entertainment are producing.

E-Mail This Article » Share your comments on 'Death Sentence'