Skarsgard Replaces Liam Neeson In Exorcist Prequel
[Friday, August 30th, 2002]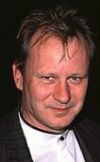 Stellan Skarsgard

Swedish actor Stellan Skarsgard will star in Morgan Creek Prods.' prequel to "The Exorcist" franchise, titled "Exorcist: The Beginning," reports The Hollywood Reporter.

He replaces Liam Neeson, who dropped out of the project because of scheduling conflicts.

Gabriel Mann and Billy Crawford continue to be attached to the project, which traces the story of Father Merrin (Skarsgard) and his first encounter with the devil while doing missionary work in post-World War II Africa. While there, Merrin suffers from the horrors of war and loses his faith. When he meets the devil, he has to fight to save his beliefs.

Paul Schrader is directing the prequel, which begins shooting in November in Morocco before moving to England.
More On 'Exorcist The Beginning'...


E-Mail This Article » Share your comments on 'Exorcist The Beginning'