Cameo Role For Jude Law In 'Factory Girl'
[Tuesday, November 29th, 2005]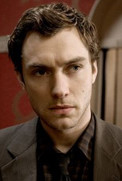 Jude Law is set to make a cameo appearance in Sienna Miller's new film Factory Girl, according to Ananova.

The project, which is helmed by George Hickenlooper, revolves around an unconventional love triangle of sorts that developed among Sedgwick, Bob Dylan and Warhol.

Law and Miller broke up earlier this year after revelations of an affair between Law and his children's nanny. "They have only just patched things up and Sienna wants to keep him close," a source told The Sun newspaper.

E-Mail This Article » Share your comments on 'Factory Girl'