Jessica Alba Joins The 'Fantastic Four'
[Wednesday, July 14th, 2004]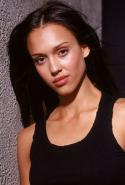 Jessica Alba has signed on to play the Invisible Girl for 20th Century Fox's upcoming Marvel Comics adaptation Fantastic Four, says the Hollywood Reporter.

Alba is said to have competed with Rachel McAdams and Elizabeth Banks for the role. She joins Michael Chiklis, Chris Evans and Ioan Gruffudd as the adventure-seeking quartet made up of scientist Reed Richards/Mr. Fantastic (Gruffudd); his love interest, Susan Storm/the Invisible Girl (Alba); her brother, Johnny Storm/the Human Torch (Chris Evans); and Reed's best friend, Benjamin Grimm/the Thing (Chiklis).

The four develop superpowers when their spaceship is exposed to cosmic radiation. Tim Story is set to direct.

E-Mail This Article » Share your comments on 'Fantastic Four'