'Fantastic Four 2' Set For July 4th, 2007 Release
[Monday, December 5th, 2005]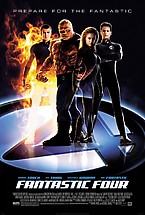 Director Tim Story has signed on to return for 20th Century Fox's Fantastic Four 2, says Variety.

Ioan Gruffudd, Jessica Alba, Chris Evans and Michael Chiklis will also be reprising their roles in the mutant sequel. Writer Mark Frost will be returning to write the script.

"We tried to something different than the brooding, dark setting you usually get in superhero films," Story said. "The key to that movie was how to play with a comedic tone and the action and have it feel respectable to the genre and the franchise and still be fun.

"By the end, we'd found the right note and then you want to put the band back together. The universe of villains is vast, and now that everyone's been introduced, you can just get right to it. That's why so many superhero sequels improve on the original."

The feature is slated for a July 4th, 2007 release.
More On 'Fantastic Four: Rise of the Silver Surfer'...


E-Mail This Article » Share your comments on 'Fantastic Four: Rise of the Silver Surfer'