Fox Searchlight Acquires 'Fast Food Nation'
[Monday, December 19th, 2005]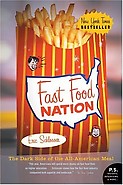 Fox Searchlight Pictures has acquired the North American distribution rights to Fast Food Nation, says the Hollywood Reporter.

The feature, helmed by director Richard Linklater, is a dramatic character study about the fast-food industry based on Eric Schlosser's nonfiction best-seller.

The films cast includes Patricia Arquette, Bobby Cannavale, Luis Guzman, Ethan Hawke, Ashley Johnson, Greg Kinnear, Kris Kristofferson, Avril Lavigne, Esai Morales, Catalina Sandino Moreno, Lou Taylor Pucci, Ana Claudia Talancon and Wilmer Valderrama.

A 2006 release is said to be planned.

E-Mail This Article » Share your comments on 'Fast Food Nation'