Zach Braff & Amanda Peet In Comedy 'Fast Track'
[Tuesday, May 3rd, 2005]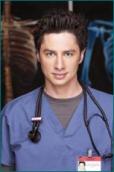 Zach Braff and Amanda Peet are in talks to star in the upcoming comedy Fast Track, according to the Hollywood Reporter.

Jesse Peretz is set to direct the film, which will begin principal photography in July in Los Angeles. The story centers on an underachiever who is forced to take a job he doesn't want -- working for his father-in-law -- after his wife becomes pregnant and quits her high-paying job.

"With the success of 'Garden State' and Ted Hope's 'In the Bedroom,' we could not be more excited to be working with this team on this film," Harvey Weinstein said.

E-Mail This Article » Share your comments on 'Fast Track'