'Finding Nemo' Teaser Poster Online
[Friday, January 17th, 2003]
IMP Awards have posted the teaser poster for Pixars' Finding Nemo. According to the site, the poster comes with a cute disclaimer to its tagline of

"There are 3.7 trillion fish in the ocean. They're looking for just one." For the curious, the small print reads: "Actually, no one can ever know exactly how many fish there are in the ocean. According to some sources, the real number is probably closer to between 1 and 4 quadrillion! We just wanted to emphasize the boatload of fish that live in the world's oceans and one fish's incredible quest to find his lost son. If you think you know the actual number, we'd like to know too! Contact us at findingnemo.com."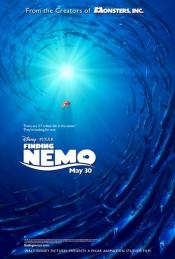 Thanks to 'Matt' for the heads up!

E-Mail This Article » Share your comments on 'Finding Nemo'