Vicky Jenson In 'Four Christmases' Talks
[Friday, February 3rd, 2006]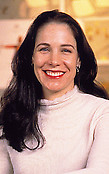 'Shrek' director Vicky Jenson is in final talks to direct New Line Cinema's Four Christmases, says the Hollywood Reporter.

The holiday comedy revolves around a young married couple, both children of divorced parents, who have to attend four different Christmas Day family celebrations.

"I've always been a big fan of dysfunctional family comedies in (the) vein of 'Annie Hall,' 'Home for the Holidays' and 'Flirting With Disaster,' " Jenson said. "I come from a big, messed-up family, so I get that big, messed-up family world with all its humor and discomfort; it's right up my alley."

The project is based on a screenplay by Matt Allen and Caleb Wilson.

E-Mail This Article » Share your comments on 'Four Christmases'