Brad Renfo Joins 'Freddy Vs. Jason' Cast
[Monday, August 5th, 2002]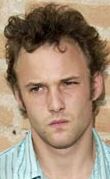 Brad Renfo

New Line Cinema has greenlit "Freddy vs. Jason," signing Brad Renfro to star alongside Robert Englund, who'll be back for his eighth performance as Freddy Krueger, reports Variety.

The studio hasn't yet decided on the actor who'll play Jason Vorhees, the lumbering maniac from the "Friday the 13th" franchise who will be making his 11th appearance onscreen.

Ronny Yu, the Honk Kong veteran whose credits range from "The Bride With White Hair" to "Bride of Chucky," will direct the pic, with shooting to begin Sept. 9 in Vancouver.

The film's premise is a simple collision of legendary evildoers who've each racked up impressive body counts of promiscuous teens.

"It's clash of the titans, the ultimate showdown," said New Line production prexy Toby Emmerich. "Freddy is the intellectual manipulator, Jason the killing machine. When you have done 17 movies between these characters, it is hard to stay fresh, but putting these characters together makes it fresh. There is a hard-core fan base for each, and we will be out in front of 'Predator vs. Alien' and 'Batman vs. Superman,' other films putting venerable characters against each other."

Renfro ("The Client") will play a character who finds himself pitted between the two combatants, and so his mission is to try and stay alive until the end credits.

E-Mail This Article » Share your comments on 'Freddy Vs. Jason'