Emily Blunt In 'The Great Buck Howard' Talks
[Tuesday, August 1st, 2006]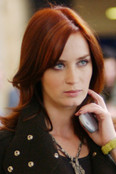 Emily Blunt is in talks to play the female lead in Bristol Bay Prods.' The Great Buck Howard, says Variety.

She would join Tom Hanks, John Malkovich and Colin Hanks in the movie.

The feature, written and directed by Sean McGinly, follows a luckless magician and his assistant who struggle to reinvigorate his career. Blunt will play a self-assured publicist hired by Buck Howard (Malkovich) to publicize an event that will put him back on the map.

The film began shooting Monday in Los Angeles.
More On 'The Great Buck Howard'...


E-Mail This Article » Share your comments on 'The Great Buck Howard'