Eminem In Adaptation 'Have Gun -- Will Travel'
[Tuesday, June 13th, 2006]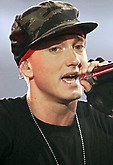 Eminem is attached to star in a contemporary feature adaptation of the CBS series Have Gun -- Will Travel, according to Variety.

Debuting in September 1957, the TV Western starred Richard Boone as Paladin, a gunfighter-for-hire.

Concept will be updated to contemporary times and see Eminem playing a bounty hunter. Setting could be Eminem's hometown of Detroit, but those details have yet to be worked out.
More On 'Have Gun -- Will Travel'...


E-Mail This Article » Share your comments on 'Have Gun -- Will Travel'