Paris Hilton To Join Cast Of 'House Of Wax'
[Thursday, March 11th, 2004]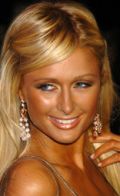 Paris Hilton is said to be in final negotiations to join the cast of House of Wax, according to The Hollywood Reporter.

Joel Silver, Robert Zemeckis and Susan Levin are producing, while commercial helmer Jaume Collet-Serra is making his feature directorial debut.

Hilton, who is known for playing herself on such fare as the hit reality series "The Simple Life" and "Zoolander," has been transitioning to dramatic material.

Remake of the 1953 classic horror film 'House of Wax 3-D', which starred Vincent Price and was directed by Andre de Toth. The movie centered on a mad professor who used human bodies covered with wax in his wax museum. The new version will depart from the original but will retain the gruesome "human bodies in wax" element and focus on a group of teens who fall prey to demented killers who have a penchant for encasing their victims in wax.

E-Mail This Article » Share your comments on 'House Of Wax'