David 'Angel' Boreanaz Is In For 'The Hard Easy'
[Friday, September 17th, 2004]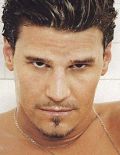 David Boreanaz (TV 'Angel'), Henry Thomas (Gangs of New York), Vera Farmiga (Touching Evil) and Bruce Dern (Monster ) have been cast in the indie heist film The Hard Easy, according to the Hollywood Reporter.

Ari Ryan is directing, with the story focusing on two men who attempt to rob a jewelry store on the same day. Boreanaz plays Roger, an unlucky, unethical stock trader and Princeton graduate who agrees to rob the jewelry store with a team in order to cover losses that could put him in jail. Thomas plays Paul, a lowlife gambler who is attempting to do the same thing in an effort to pay off his gambling debts.

Farmiga will play Dr. Charlie Brooks, an attractive, worldy woman who is trying to get revenge on Paul for her father's death. Dern is attached for the role of Gene, a former military man who is part of the robbery team.

E-Mail This Article » Share your comments on 'The Hard Easy'