Lucas Moves Indy To Paramount?
[Sunday, April 15th, 2001]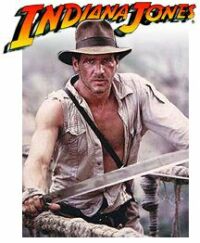 Premiere Magazine published their 'Power list' in their latest issue(May 2001). George Lucas and Harrison Ford made it on the list, on 18 and 48 respectively. Harrison Ford's entry noted the following:



Harrison Ford - Still up for doing a fourth Indiana Jones adventure, which producer Lucas just set up at Paramount.



If the information is true and accurate than that would mean that Lucas has finally made a move. Previously they were in a deadlock as Ford, Speilberg(Steven Speilberg, Director) and Lucas could not agree on a script, with screenwriter Jeffrey Boam working flat out on new treatments.

Check the actual cut outs from Premiere Magazine

48. Harrison Ford, click here
18. George Lucas, click here

Thanks to TheForce.Net.
More On 'Indiana Jones 4: Kingdom of the Crystal Skull'...


E-Mail This Article » Share your comments on 'Indiana Jones 4: Kingdom of the Crystal Skull'