Brendan Fraser To Star In 'Inkheart'
[Wednesday, August 23rd, 2006]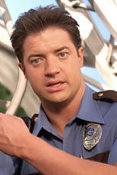 Brendan Fraser is set to star in New Line Cinema's Inkheart, says the Hollywood Reporter.

The feature is an adaptation of Cornelia Funke's best-selling children's novel. It follows a girl whose father, a bookbinder, has the power to bring characters from books to life by reading aloud. When a villainous ruler and his band of rogues from a children's fable kidnap the man, his daughter and her friends -- both real and imaginary -- must set things right.

Fraser will play the father, Mortimer "Mo" Folchart, who also is known as Silvertongue. Iain Softley is on board to direct the project.

E-Mail This Article » Share your comments on 'Inkheart'