Daniel Craig Joins Kidman In 'Invasion'
[Friday, August 19th, 2005]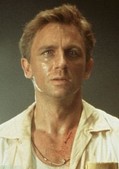 Daniel Craig is set to join Nicole Kidman in Warner Bros. Pictures' sci-fi thriller Invasion, says the Hollywood Reporter.

The feature, helmed by Oliver Hirschbiegel, sees a mysterious epidemic alter the behavior of human beings. A Washington psychiatrist (Kidman) discovers that its origins are extraterrestrial.

She must fight to protect her son, who might hold the key to stopping the invasion. Craig plays Kidman's colleague and love interest who teams up with her to fight the invasion.

E-Mail This Article » Share your comments on 'The Invasion'