Jude Law Voted As Next 'James Bond'
[Monday, January 27th, 2003]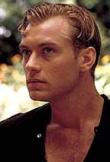 English actor Jude Law topped a poll of film fans Monday to find the next incarnation of suave secret agent James Bond.

In a poll taken by Total Film, the 30-year-old star took more than a quarter of votes, finishing just ahead of Scottish "Star Wars" actor Ewan McGregor.

"I think Jude Law has that upper class, debonair sophistication about him that people associate with James Bond," said Matt Mueller, Total Film editor. "More so than Ewan McGregor and Christian Bale who came close."

But he said McGregor's close second place was interesting because, like Sean Connery, he is Scottish.

Although the current 007 star Pierce Brosnan has committed himself to a fifth outing as Bond, but has said he may be too old for a sixth.

"It takes stamina to play this role. I would like to get off the stage with grace," he told a news conference last year.

American Psycho star Christian Bale came in third in Monday's poll. Hugh Grant, famous for playing a foppish Englishman in Four Weddings and a Funeral took just two percent of votes.

E-Mail This Article » Share your comments on 'Casino Royale'