Bollywood's Aishwarya Rai In Bond Girl Talks
[Monday, April 7th, 2003]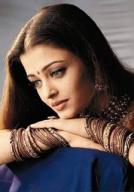 Former Miss World and Bollywood star Aishwarya Rai may become the first Indian actress to star as a Bond girl, according to the Times of India.

Her secretary Hari Singh is quoted to have confirmed the "unbelievably grand project. Yes, for Aishwarya, it's something unbelievable. An international coordinating agency has approached us on behalf of the studio making the Bond movies."

Although an accident on her latest project is said to have delayed discussions. "They were waiting with me on the sets and watching the rehearsals, with Aishwarya, Amitabh Bachchan and others," adds Singh. "They are keen to cast her. Let's see what Aishwarya has to say. We'd have to rework our earlier schedules."

E-Mail This Article » Share your comments on 'Casino Royale'