MGM Stops Work On 'James Bond 21'
[Thursday, September 30th, 2004]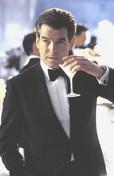 MGM has stopped development on the next James Bond movie, says the Hollywood Reporter.

The studio, which is in the process of being sold to Sony, says that business no longer involves the immediate production of a new James Bond movie.

The movie, which would have been the 21st James Bond movie, had been scheduled for release November 21st, 2005. An MGM spokesperson said that the studio made the decision because it has not yet found a director for the film.

According to trade sources, the producers are planning to meet next month to decide whether to aim for a summer 2006 or November 2006 release date.

E-Mail This Article » Share your comments on 'Casino Royale'