Ioan Gruffudd Lined Up For 'James Bond 21'?
[Thursday, November 25th, 2004]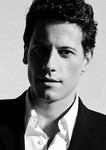 Welsh actor Ioan Gruffudd is thought to be the only actor being considered to play the Bond role in James Bond 21.

Gruffudd is said to be deep in talks with EON Productions to take over the role from Pierce Brosnan.

A 'top industry source' told Moviehole.net, "Naturally, others may float into the mix, but at the moment, he's the only guy that EON are seriously considering for the role."

E-Mail This Article » Share your comments on 'Casino Royale'