21st James Bond Movie Is 'Casino Royale'
[Friday, February 4th, 2005]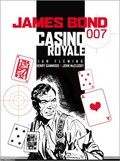 The 21st James Bond movie will be based on Ian Fleming's first James Bond book, Casino Royale, with 'Goldeneye' director Martin Campbell at the helm.

Rumors are still rife over who will play the lead in the movie, after Pierce Brosnan was axed. Favorites for the role include actor Dougray Scott, Clive Owen and Hugh Jackman.

Flemings book, the first mission for James Bond, follows 007 who must neutralize lethal, high-rolling Russian operative called 'le Chiffre,' by ruining him at the Baccarat table and forcing his 'retirement'. Lady luck appears to be taken with Bond as his target hits a losing streak, but Bond's attraction to a beautiful female agent leads him to disaster.

Shooting for the project is expected to begin once Campbell finishes work on The Legend of Zorro, with the final release sometime in 2006.

E-Mail This Article » Share your comments on 'Casino Royale'