No 'Q' In 'James Bond 21' Says John Cleese
[Wednesday, March 16th, 2005]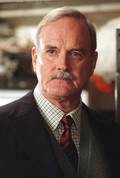 John Cleese says his character Q has been removed from the next James Bond movie Casino Royale. "If I'm told that is there is a Q, I will be Q. But unfortunately, I don't believe there's a Q in the current version of the script," Cleese told Ananova.

Director Martin Campbell is said to have dropped the character because he believes his plans for a serious Bond movie would be undermined by Cleese's humorous inventor role.

"Casino Royale will be a grittier, tougher and more realistic Bond movie," Campbell told IOL. "We'll be getting away from the huge visual effects and comic relief."

E-Mail This Article » Share your comments on 'Casino Royale'